The Las Vegas Inferno "Bring the Heat"
Las Vegas' official esports team talks about family, community, and the road ahead
Community
The Las Vegas Inferno "Bring the Heat"
Las Vegas' official esports team talks about family, community, and the road ahead
Community
"Sin City," aka Las Vegas, NV. Land of Gambling, Frivolity and... esports? Yup, that's right; esports is heating up in the land of "Lost Wages," and the Las Vegas Inferno is "bringing the heat."
In March of 2018, the HyperX Esports Arena was built on the Las Vegas Strip attached to the Luxor Casino. Since then, it has become a sort of "home" to the Las Vegas Inferno, as the "Bring the Heat" to the esports scene competitively and casually via content creation.
I had the opportunity to sit down with Jairo Urcuyo, the CEO and founder of the Las Vegas Inferno. We discussed how he founded the team, where he plans to take it, and their now established status—being the official esports team of Las Vegas and having January 6th be the official Las Vegas Inferno Day (as proclaimed by Las Vegas City Hall).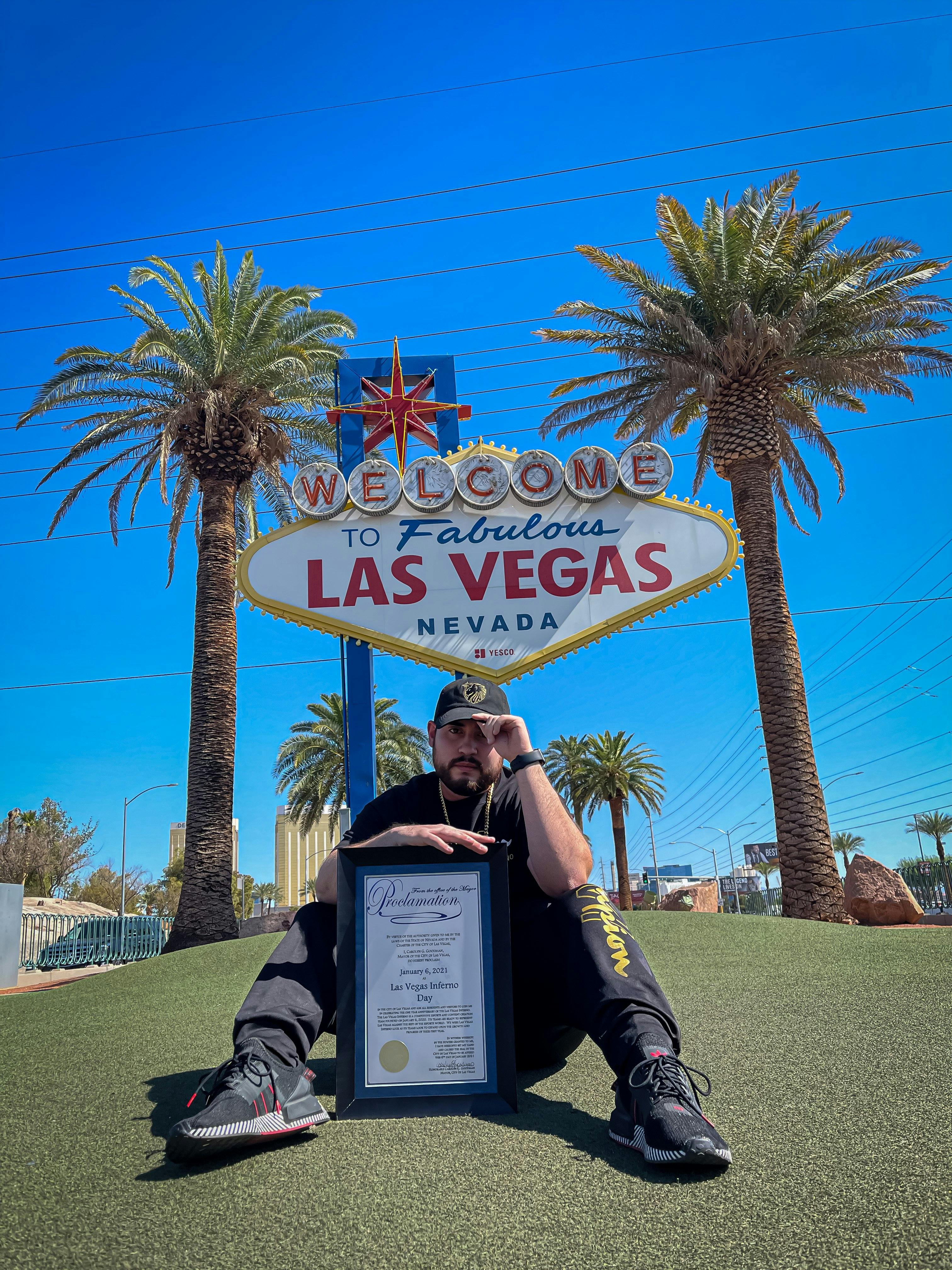 I also sat down with Inferno's General Manager, Leo Martinez, and two of their content creators, Victor Luu and Briana Mercado, to talk about their experiences as content creators and competitors with the team.
After he became unemployed, Jairo Urcuyo, known on Twitter as @Gilyphix, created The Las Vegas Inferno on January 6th, 2020.
His passion for gaming and his love of his home of Las Vegas chose to start an official organization, not an easy path, but indeed an easy choice.
"The Inferno represents the city of Las Vegas in more ways than one. It is a reference to the natural heat that Las Vegas brings throughout its summer months, and connects. The Inferno to the fire within each of us that helps us persevere."
Just listening to Jairo speak about Las Vegas, you can hear his passion. "Not only are we here to stay, but we are also here to positively impact the city and give back as much as possible."
According to Leo Martinez--who is a Leo and the General Manager of the Las Vegas Inferno--the team is dedicated to bettering the gaming community and the Las Vegas Community.
The team gets together twice a month to have dinner and share fellowship, and show up for each other and the competitions in which they participate. Alongside taking care of each other in the gaming community, they also support local businesses as a team. They help and participate in charity events such as Gamer's Outreach and more.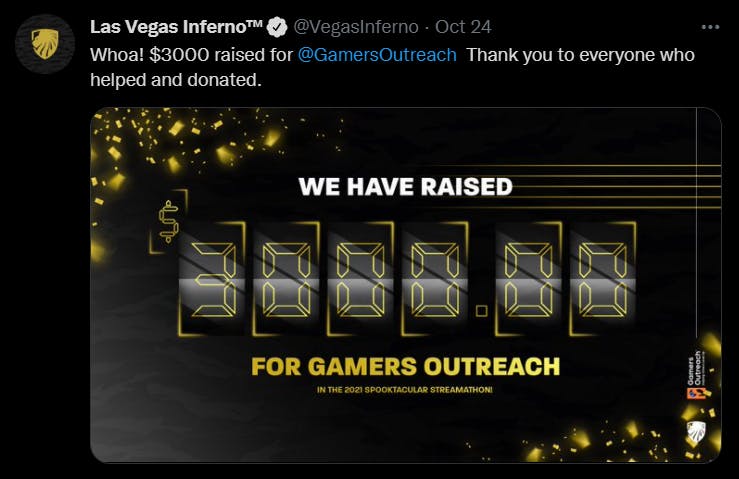 Las Vegas has gone through a lot in the past few years, and their goal is to show their home the love that it deserves and that they feel like the official esports team.
Briana Mercado, a content creator for the Las Vegas Inferno who goes by @b117breezy on Twitter, is an IRL (in real life) streamer.
"We are a family," said Briana, aka Breezy. "It really is about reaching the team's goals as a team. Not one person alone will reach those goals."
Breezy is also focused on taking care of herself and her community. 
"Streaming is super therapeutic," said Breezy. "Everyone is going through something, and you never really know what they might be going through, and having that positive outlook when the world is so negative, to have someone with that positive person outlook to look up to, whether it is a small streamer or huge streamer, and then having that streamer take the time to get to know you and write back, it's a big thing."
Connecting with her team and her community are the two biggest things for Breezy, and hearing her talk about it, you can see how much passion she has for gaming, the team, and Las Vegas.
Leo Martinez, who also goes by @LeoTheKing_ on Twitter, started managing the team in Feb of this year. 
He had never managed a team before Jairo offered him the challenge.
"Every day, there is always something new," Leo explained. "There is always something new that I can either build on, learn on, or that I have to experience. Before this, I had never really done anything like this, so it is an ongoing experience to try and better myself, my management skills, and better the team."
There it was again, "bettering himself, his skills, and his team." 
"Whether it's learning video editing or learning to manage, you never know where life is going to take you, so the more you learn, the better you are," Breezy added in.
As the General Manager, Leo talked about emphasizing the importance of learning from each other on the team and learning from your family. 
"For anybody looking to get into this, especially if this is your first time doing something like this and you are a fresh new face, listen to your elders," Leo stated. "Listen to those who have more experience than you. Don't take anything personally if you mess up; they are just trying to help you. Everyone is trying to help you succeed, especially here. We are all a family; everyone is trying to help you grow."
This led to a new discussion with Jairo about how gamers, streamers, and competitors could join the team. Because, I mean… who wouldn't want to be a part of a team so passionate about each other, their city, community, and the game?
To be a part of the team, you need to head over to LVInferno.com and look for the link to join. It all starts with an application.
"You can tell us who you are, why you are applying, and your social media handles, and we look through it," said Jairo. "We don't just look at your viewership; we look at your personality."
"If you want to be competitive, we look at how good you are, your placements, your content level, and then we look at viewership, and even what you are doing outside of Twitch," continued Jairo with a very CEO aura about him. "Are you making YouTube videos? Are you doing Social Media stuff? How is your presence on social media? Are you bad-mouthing stuff, or are you doing a good job? And if you are here locally, that makes it a lot easier because now we can start meeting in person and having more people come to local events."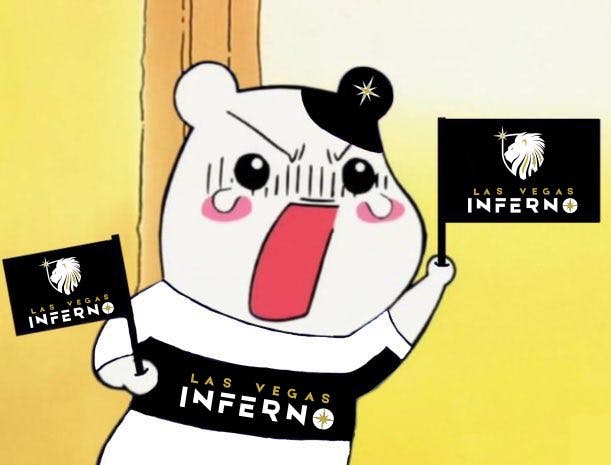 Victor Luu, aka @KingLuucifer, a streamer and competitive FPS player for the Las Vegas Inferno, gave me some advice for those who want to join the Inferno or competitive gaming in general.
Victor emphasized having a team.
"Have some friends, have a team ready; it's hard queuing up solo," Victor said. "If you are playing with your friends, one, you are having fun, two, the communication is just a lot easier. Playing with friends is my biggest piece of advice."
"Other than that, if you are a shooter, you are a shooter; and it comes down to movements," added Victor. "Movement is a big key in the majority of FPS games."
And making big moves is the key for any excellent esports organization.
To help improve the scene and the exposure of the Rocket League Community, Jairo talks about the Inferno's involvement in the RL scene.
"As far as the competitive level and the content level, we just signed an RLCS team from South America," continued Jairo. "They are one of the top teams in their region."
With recent developments in the Rocket League competitive scene, Jairo is preemptively setting up a premier RL competitive team to take the Inferno to much greater heights.
"We want to push out more Rocket League content because it is becoming a tier 1 esport."
"The Rocket League community is awesome," continued Jairo. "I have found more success in the Rocket League community because they are so loyal to whomever they are watching. In games like Call of Duty and Apex, people want to see how good you are. They watch you die and then leave. In Rocket League, they want to watch the whole game, so they stay for the whole match."
"We are currently in the process of bringing on more content creators from different types of games; Apex, Rocket League, Warzone, League of Legends, and more games," Jairo said. "After that, we are going to be competing and investing much more in Apex and LoL."
Jairo also mentioned briefly that the Las Vegas Inferno is currently working with the University of Las Vegas to get a collegiate-level esports program going. 
Another thing that Jairo mentioned is their plans that are in the works with Champion Apparel to build an exclusive lifestyle brand.
As you can tell, the Las Vegas Inferno has been ready to "Bring the Heat" for quite some time. They are passionate about Las Vegas, about competing, about family, and the gaming community altogether.
It is my straightforward advice to keep an eye on this team because they are heating things up.
And as always, don't forget to get your GameFace on!