Halo: Infinite - Hail to the Master Chief, Baby
Get those letters ready for Santa because Halo Infinite is coming!
News
Halo: Infinite - Hail to the Master Chief, Baby
Get those letters ready for Santa because Halo Infinite is coming!
News
Get those letters ready for Santa, because Halo Infinite is coming in time for the holiday season and for you to ask the big guy for one of the most anticipated games of 2021.
After a lengthy delay from the original release expectations of 2020, we finally have a return date for Master Chief with plenty of details rolling out right to the doorstep of 343 Industries and launch day. On December 9th, it's time to suit up once again.
Anticipated Features
According to the Halo Infinite development team at 343, two of the biggest features will still be missing even after the year long delay. Forge and campaign co-op reportedly will not be ready by launch, as announced by 343 in August amid the decision of holding off another delayed release.
According to creative lead Joseph Staten, campaign co-op and Forge still require more polishing time and are due to release along with the seasonal roadmap sometime in 2022. The plan is to have co-op out three months post launch and Forge after six months.
"Unfortunately, as we focused the team for shutdown, and really focused on a quality experience for launch, we made the really tough decision to delay shipping campaign co-op for launch. And we also made the tough call to delay shipping Forge past launch as well."
Staten continued, "Our number one priority is making sure that whatever we ship, whenever we ship it, it meets the right quality bar, and across all platforms: Xbox devices, PC, and all its different configurations. And when we looked at these two experiences, campaign co-op and Forge, we made the determination they're just not ready."
Halo Infinite Battle Pass
One of the biggest and most controversial topics regarding Halo Infinite has been the inclusion of a Battle Pass system.
According to Christopher Blohm, lead player investment designer, Halo Infinite will have a permanent battle pass. That means, if you buy it, you keep it forever and if you buy a new one, you can choose which one to put your points towards.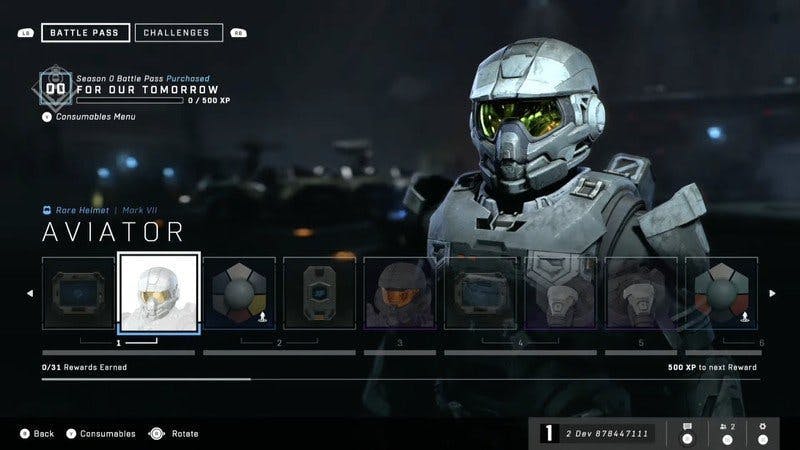 This is a big deal when it comes to players who are in it for cosmetics. You can grind on your own time and save points for a specific cosmetic whether it released from a past battle pass or is available on the current one.
"If you can unlock something with the Battle Pass, we're not gonna let any other players circumvent that by purchasing it out of the storefront," live design director Ryan Paradis says in the Halo Infinite multiplayer overview video.  "So you won't spend time grinding for a cool bit of armor just for someone to buy it in the Halo story for a fiver."
Season One
Battle pass rewards will be tied to events within the multiplayer seasons. Themed rewards will be earned by progression on whichever battle pass you are applying your earned points. 
The first Halo Infinite season will be named "Heroes Of Reach" and will examine how the latest Spartans must "wrestle with the perils and mysteries of a galaxy that has fundamentally changed after the events of Halo 5."
Cosmetics and Customization
It seems that there will be an insane amount of customizations for your Spartan, even at launch.
Every piece of the Spartan's armor is reportedly customizable. Knee pads, gloves, visors, and more will all be interchangeable and allow for "millions" of combinations. You can add emblems to each piece of armor, as well as an option for a Destiny-style shaders and coatings for the first time in the Halo franchise. 
One of the coolest new features, in my opinion, is the customizable AI that you can choose and make your own. You will even be able to customize the Spartan INSIDE the armor with choices of body styles, voices, and prosthetics.
Graphically Amazing - Much Wow!
Back in July, there was a lot of murmur and (honestly) disappointment from the Halo community. Gameplay footage was released, shocking a lot of people with the "quality" (or lack thereof) from the available footage.
"Much of the feedback we heard from the community aligned with our own views and work we were already committed to doing around things like indirect lighting, material response, foliage and tree rendering, clouds, level-of-detail transitions, and character fidelity. Still, the feedback was humbling, and it also pushed us to look at additional opportunities for improvement." - Neill Harrison, Director of Art Management at 343 Studios.
It was emphasized at that time that the gameplay footage was a "work-in-progress" slice of the technology. So far, the team has made progress in many areas of the game, including better global illumination, shadows, volumetric lighting, and is further addressing areas of GPU-driven rendering and texture streaming. This will all reflect through graphical fidelity in characters and wear-and-tear on vehicles.
At the time of that statement, it was admitted that there was still "more work to be done" graphically (as you can tell from the clipped image below).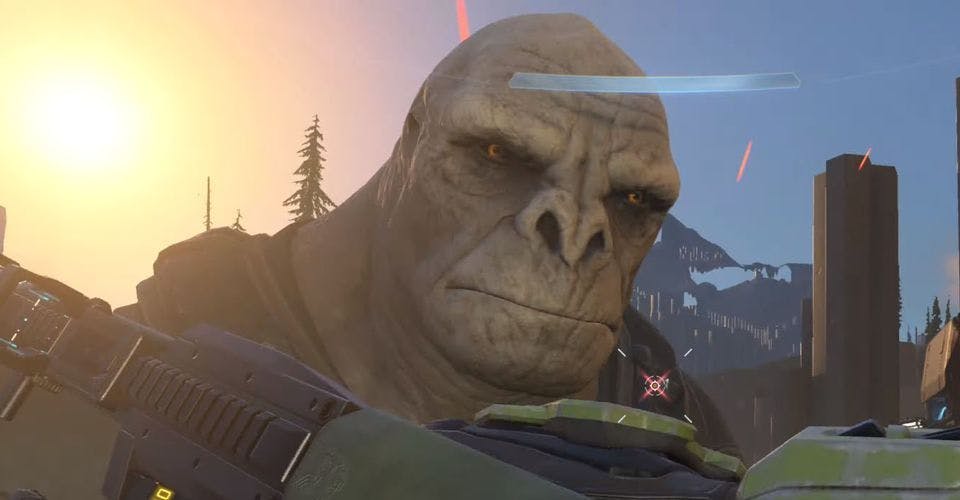 Multiplayer
Halo Infinite Multiplayer is following suit with a lot of Battle Royale games on the market, as the multiplayer aspect of the game will be free-to-play across all platforms.
The typical Halo game modes are set to return in Infinite; Slayer, Strongholds, and Capture the Flag will all be available at launch on a select set of maps.
After several weekends of beta testing, the available experiences 343 has allowed players to partake in has had fairly positive reception. According to many of those lucky enough to experience it, the experience allegedly brought back that classic Halo multiplayer feeling; fast and furious.
Unfortunately, the available weapons brought mixed reviews with some feeling that they are underwhelming. However, as always during tests like this, other players reported that they are fantastic and balanced based on changes made during the beta.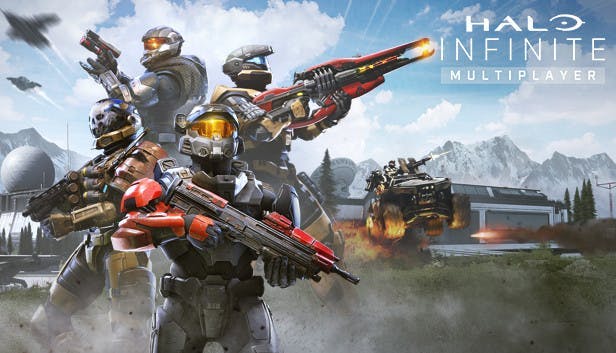 One of the primary new mechanics to the Halo Franchise, the grappling hook, expects to shake things up in the campaign and multiplayer modes. This item can be used to bring in an enemy for a quick kill or to swing across the map back to your base with the captured flag in hand!
Another addition to the special equipment is the repulsor. This can be used to deflect projectiles and even push them back to the enemy. Got a pesky grenade incoming? Use a repulsor to deflect it right back to them (or be that guy and just push the Warthogs off the edges of the map).
According to a recent leak by popular YouTube Streamer Dr. Disrespect, 343 is actually working on a 300-player Battle Royale mode. 
"I'm hoping to jump right into a battle royale mode game too, man," said Dr Disrespect.
"It's going to be a lot of fun. From what I've heard it's going to be 300 players, set loop, power weapons on the map, and maps designed around these power weapons and locations and points of interest. This is all inside information I've been receiving. And it's going to feel really good, supposedly. Super optimized. If this first technical alpha test is any indication, they are going to knock it out of the park."
The game is slated to launch with 23 multiplayer maps!
One interesting aspect of multiplayer matchmaking is the separation of controller players from mouse and keyboard players. 
"Social playlists and custom matches are open to all, you can play on any platform and any device with anyone you like," PC development lead Mike Romero explained in a blog post. "For ranked matches, we plan to restrict competitive playlists based on input type, not console versus PC. That's because we believe the input is the biggest differentiator in gameplay ability (with things like aim assist on the controller or the precision of sniping with a mouse). You can play with a controller on your PC to play ranked with your console friends, or even mouse and keyboard on your console to play ranked with your PC friends."
Assassinations
Another feature we are learning about is the multiplayer "assassination" feature. 
Brian Jarrard, community director of 343 Industries, and Tom French, the Multiplayer Associate Creative Director, noted the iconic Halo feature will be missing at launch.
"They're not in for launch, and I think we're just going to be straight about that," French said. "At a lot of levels, people just turn them off, because there's a gameplay disadvantage to it. One of the things we really wanted to do was take a step back and [ask] how do we think about how do these fit into Infinite's gameplay loops."
"When we bring them back, we want them to be back and fit right into our sandbox and the loops of the game," French said, "and bring them back in a way that really just feels meaningful, so they're always an accessible tool, but also kind of a flourish moment that people have."
Cross-Play and Cross-Progression
Microsoft has confirmed that Halo Infinite will support both cross-play and cross-progression at launch.
This is beneficial to those that own Halo Infinite on PC and want to play with friends on the Xbox One or Series X/S, as your customizations will follow you back and forth from PC to console.
Day/Night and Open World Gameplay
One huge addition to the gameplay aspect of Halo Infinite, and nothing new if you are a Pokemon fan, is the addition of day and night mechanics in Infinite, as well as the addition of open-world.
343 Industries' Chris Lee tells IGN that the open-world will still tell a coherent story that stays true to Master Chief's legacy in the Halo franchise: "I would think about it more like kind of delivering on that promise we've had from the past," says Lee. "There's a lot of open gameplay in those previous games, but they're always in these linear levels. This time players will have the freedom to explore the ring. But we are telling a story with a beginning, middle, and end that we want to carry the player through as you go."
"What you saw in the demo that we showed, you have this map, " he continued. "There's this huge open section of the ring. As you get to that point in the game, this is several hours into the campaign, then you have the ability to traverse that whole area and explore where you want to go on the ring. That's what we mean by open and explore the different places that you can go to."
The last "standalone" Halo for a decade
According to the leadership over at 343, Infinite will be that last standalone Halo title for the next 10 years.
Infinite is supposed to be a launching board for everything that the Halo universe can be. 
"Halo Infinite is the start of our platform for the future. We want Infinite to grow over time, versus going to those numbered titles and having all that segmentation that we had before. It's really about creating Halo Infinite as the start of the next ten years for Halo and then building that as we go with our fans and community."
Beta Flight Schedule
The most recent set of Beta Flights will make Training Mode and Weapon Drills available on the evening of September 30.
Friday, October 1 –
SESSION 1: 10am PT / 1pm ET / 6pm BST until 2pm PT / 5pm ET / 10pm BST
SESSION 2: 5pm PT / 8pm ET / 1am BST until 9pm PT / 12am ET / 5am BST
Saturday, October 2nd
SESSION 1: 10am PT / 1pm ET / 6pm BST until 2pm PT / 5pm ET / 10pm BST
SESSION 2: 5pm PT / 8pm ET / 1am BST until 9pm PT / 12am ET / 5am BST
Sunday, October 3rd
SESSION 1: 10am PT / 1pm ET / 6pm BST until 2pm PT / 5pm ET / 10pm BST
SESSION 2: 5pm PT / 8pm ET / 1am BST until 9pm PT / 12am ET / 5am BST
Sunday, October 3rd
9pm PT / 12am ET / 5am BST: Surveys sent to select Halo Insiders
Monday, October 4th
10am PT / 1pm ET / 6pm BST: Flight access closes
The first beta was designed primarily to "gather feedback on Bot behavior and online performance," as per 343. "The Bots still have their quirks, which is why we're flighting them, but they certainly aren't pushovers. Be prepared." 
As news develops on the Infinite Beta, we are learning more about weapons releasing and that timeline. Expect snipers, pistols, the needler, and the MA40 AR sooner. The Grav Hammers, Elite Swords, and more will come later in the Beta series.
"This technical preview will feature a truncated Battle Pass and a small fraction of the Customization options planned for launch," as per 343 Industries.
Release Date
The expected release date is December 9, 2021.
Price
The Standard Edition of Halo Infinite will launch at $59.99.
Halo Infinite will also be included with Xbox Game Pass.
Team Size
16 Players
Minimum Requirements
Operating System: Windows 10 RS3 x64
Processor: AMD FX-8370 or Intel i5-4440
Video: AMD RX570 or Nvidia GTX 1050 Ti
Memory: 8GB 
Storage: 50GB
Internet: Broadband Internet connection
Rated: T - Blood, Violence, Mild Language
Ultimately, Halo Infinite is looking to take us back to the exciting battles of Master Chief as the only protagonist of this installment. Personally, I am very much looking forward to battling it out in the Mjolnir armor on another Ring! Come December, you better get your Game Face on!
How do you feel about Halo Infinite based on what you've seen so far and how things have shaken out and changed since the first reveal? We would love to hear your opinions over on Twitter or Instagram! Tag @GameFaceGG in your respones!